Have you ever bought a replica? Do you want to get the best replicas? First, I want to tell you that more than 90% of the replicas come from China.
Replica product is an exceptional fashion industry. Although it is illegal, the prices are really low, and the quality is excellent, which benefits small businessmen.
If you are looking for reliable replica suppliers, this article is specifically for you. We have compiled a "DIRECTORY" of the top 20 best Chinese replica websites that you may inquiry from.
Why Should I Import Replicas from China?
As China has the highest replica technology and cheap labor, the replicas made in China are so popular because of their high quality and low price.
The replica industry in China is so developed that you can buy almost all the replicas from China.
Many luxury brand companies have foundries in China. Therefore, you can find replica luxury brand products in China, such as Louis Vuitton, Gucci, Chanel, and Rolex.
In addition, China has a mature industry chain with specialized factories that take care of every aspect of producing replicas, producing huge volumes and significantly reducing the production cost of each product.

What Replica Products are Suitable for Importing from China?
The replica industry in China is very well developed, the most popular of which are replica bags, watches, clothes, and shoes.
When people hear about replicas or fakes, they tend to shy away from buying them, but in reality, not all such products are of low quality.
Most of the replicas are high quality, and some are so good that you can't tell the difference between real and fake.
Depending on the quality of the replicas, they can be classified into several grades from A to AAA. The style and materials are the same as the originals for AAA-grade replicas.
In short, there is a huge demand for replicas in the market. So many buyers choose to import replicas from China to make money.

Where Can I Find Replicas in China?
Many famous luxury brands have their own original factories in China. These factories are experienced in producing high-quality replica products made from the same materials as the branded products.
So, there is a good chance that the replica products you import from China are made in the same factory as the original ones.
Here are the top 4 categories of industry clusters in China for the most popular replica products:
Replica Bags
The production areas of bags are also mainly concentrated in Guangdong, Zhejiang, and Hebei.
After decades of development, leather production in these places has formed a complete industrial chain and is the local pillar industry.
Replica watches
Guangzhou is currently the most extensive production base of replica watches in China, with various large and small assembly factories.
In addition, Guangzhou has the largest watch market in China, where you can find some of the latest and most famous luxury replica watches.
You may learn more on our blog for Guangzhou Watch Market for details below:
Complete Guide 2022: Top 10 Best Guangzhou Watch Market
Replica clothes
Factories in China that produce replica clothes are concentrated in Qingdao, Hebei, Zhengzhou, Wenzhou, Hangzhou, Guangzhou, Dongguan, and Shenzhen.
Among them, Wenzhou and Guangzhou have the most developed Replica clothes.
Replica shoes
The replica shoes industry in Putian, China, has become very mature and has a solid foundation. Here you can buy shoes with the same appearance, material, and craftsmanship as the original ones.
On the other hand, you can also find replicas from some of the famous Chinese replica websites.
Some sites deal with a single product category, while others offer a one-stop solution for all products. We will discuss this in the next section.

Top 15 Chinese Replica Websites
| Website | Main products |
| --- | --- |
| Alibaba | Bags/Clothes/Watches/Shoes/Accessories |
| Global Sources | Watches/Electronics/Fashion and lifestyle |
| Made in China | Bags/Clothes/Furniture |
| DHgate | Bags/Clothes/Watches/Shoes |
| AliExpress | Bags/Clothes/Watches/Shoes/Electronics/Health and beauty |
| 1688 | Bags/Accessories/Clothing/Sporting Goods |
| Taobao | Bags/Clothes/Watches/Shoes/Accessories |
| DIY Trade | Bags/Clothes/Watches/Shoes/Accessories |
| Hktdc | Clothes/Watches/Shoes |
| Chinabrands | Bags/Shoes/Accessories |
| Romwe | Bags/Clothes/Watches/Shoes/Accessories |
| Rotita | Handbags/Jewelry/Accessories |
| Repfashions | Clothes/Shoes/Accessories |
| FashionTIY | Bags/Shoes/Accessories/Jewelry/Beauty |
| Bodjeans | Bags/Shoes/Accessories |

How to Search on Chinese Replica Websites?
Since replicas cannot be displayed directly on the platform in public, the results are often very different from what you would expect when you type in the product name or brand.
This is because it is illegal to sell replicas on e-commerce platforms.
Here are two search methods that can be used on these Chinese replica sites and help you get the replicas:
1. Image search
You can search for replicas by uploading images, but this method only works on four sites: Alibaba, Made In China, 1688, and Taobao. Here I will take Alibaba as an example.
2. Keyword Search
You can use some keywords, for example:
Product model or the brand name, such as "UNC 2022″ or "Cinder"
Similar to the brand name, such as "Gucc" or "Prad bag"
Replica + category, such as "replica shoes"
AAA + category, such as "AAA bags" or "AAA t-shirt"
European luxury brands + categories, such as "luxury watches", "luxury designer bags" or "brand shoes"
……
You can keep trying different words to search.
After clicking on one of the products, you will visit the website for that product, which is similar to the image below.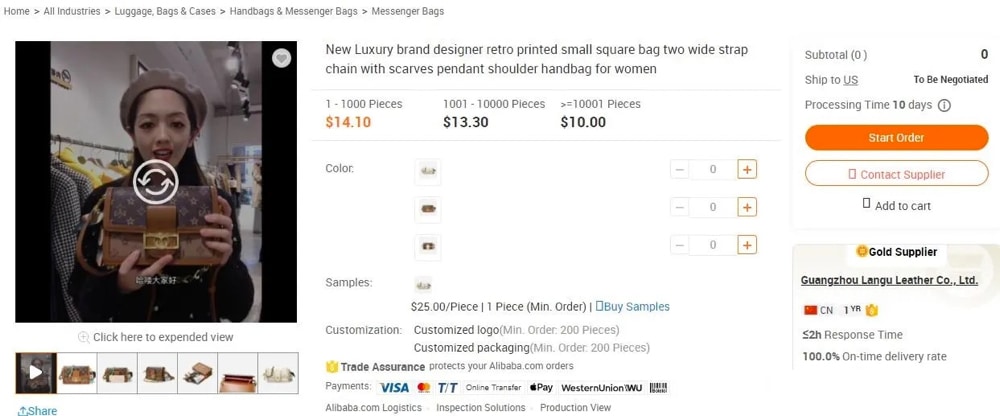 From the product's website, you will get color options, quantities, product reviews, product descriptions, more pictures of the product, sizes, shipping costs, and product prices.
Moreover, 1688 is a wholesale site for the domestic Chinese market and Taobao is a retail site for Chinese consumers, so they are both in Chinese.
When you use these two sites, you should translate them into English first.
You may learn more on our blogs for 1688 and Taobao for details below:

How to Find the Best Chinese Replica Sites?
Go to 1688 or Taobao (or Alibaba if you're not in China), and you'll find everything. You'll see the same headphones as Beats on 1688 or Taobao, but at a much lower price.
However, the problem with buying from a replica website is that you never know what you'll get until you receive it.
Remember that quality is not the only important thing when looking for a good website to buy replicas. You must consider price, delivery, and after-sales service when deciding which Chinese replica website is best.
Of course, the lowest price is not always the best. Compare prices between several replica websites, and don't settle for the first one you come across.
Does the seller offer tips and tricks for making the best purchase? How do you make a purchase? What do you need to consider? You should ask these questions before buying from them.
If the replica website does not provide any information about these questions, you should move on to another.
So, what is the best website to buy replicas in China?
There isn't a standard answer to this question. Each seller and each site has its own unique way of operating. It's up to you to find the best replica website for you.

Tips for Buying from Chinese Replicas Websites
Replicas are replicated versions of branded products. So, it isn't easy to distinguish these replicas from the original ones.
Here are 3 tips for buying from Chinese Replicas Websites:
1. Misspellings
You can use some indicative signs to set them apart. Some replicas include misspellings of the original brand name. For example, omitting or adding an extra letter to the brand name.
2. Defective logos
In addition, replicas may include faulty logos or fonts. Therefore, if you are a close observer, you can notice the slightest change in the logo or font.
3. Missing accessories
Replicas may not include accessories and extras from the original product, such as a power cord, extra batteries, plugs, user manual, or warranty card.
Remember that each Chinese replica website offers different things, so you should research what you can buy from them before choosing a good replica website.

Chinese Replica Websites FAQ
1. What is a replica product?
Essentially, a replica product looks almost identical to a high-quality or well-known brand name but at a much lower price.
2. Is it illegal to buy replicas on Chinese replica websites?
It is illegal to sell replicas on any market. However, customers are aware of the original and replica products.
If you want to start your business by selling replicas, then buying products from the market without any brand logo is better.
3. Which is the best Chinese replica website?
If you ask me which is the best Chinese website for replica clothes, replica shoes, replica watches, or replica bags, I honestly can't give you a straight answer.
There are good quality and poor quality products on every replica website.
4. How to find Chinese replica suppliers?
There are two ways to get reliable Chinese replica suppliers.
One is online, you can visit the Chinese replicas websites. The other is offline, you can go to the local market in China and get replicas at wholesale prices.
5. Do I have to pay extra for international shipping?
Yes, there is usually an extra charge.
Usually, you will be charged additional fees related to the shipping process (based on the size or value of the shipment), parcel handling services, or other taxes-related costs.

Chinese Replica Websites Conclusion
Buying a replica from China that meets your expectations is more complicated than buying a generic product. The most important thing for you is to buy in the right place to avoid being cheated.
Now that you have already known the famous Chinese replica websites you can choose to work with, you shouldn't waste your time.
We are the leading sourcing company in China and are committed to helping our customers source good products from China at the most competitive prices. If you want to import from China, please feel free to contact us.